By following a few simple rules, you can showcase your beautiful new home at Montague Markets to its full advantage. We speak to the experts at interior designers Noble House, the stylists behind one of our amazing new display apartments.
Noble House interior designer Kayla Qualischefski says while there's some science to maximising the mood and visual appeal of any residential space, her best advice is to take it slowly.
"The main thing is to realise you don't have to go out and buy everything at once. Install your biggest pieces of furniture, such as the sofas and the beds, and layer up from there.
"Colour is a very personal choice. People with big personalities tend to go for brighter, louder colours but no matter what your preferences, it's always a little easier when you have a basic knowledge of the rules of design.''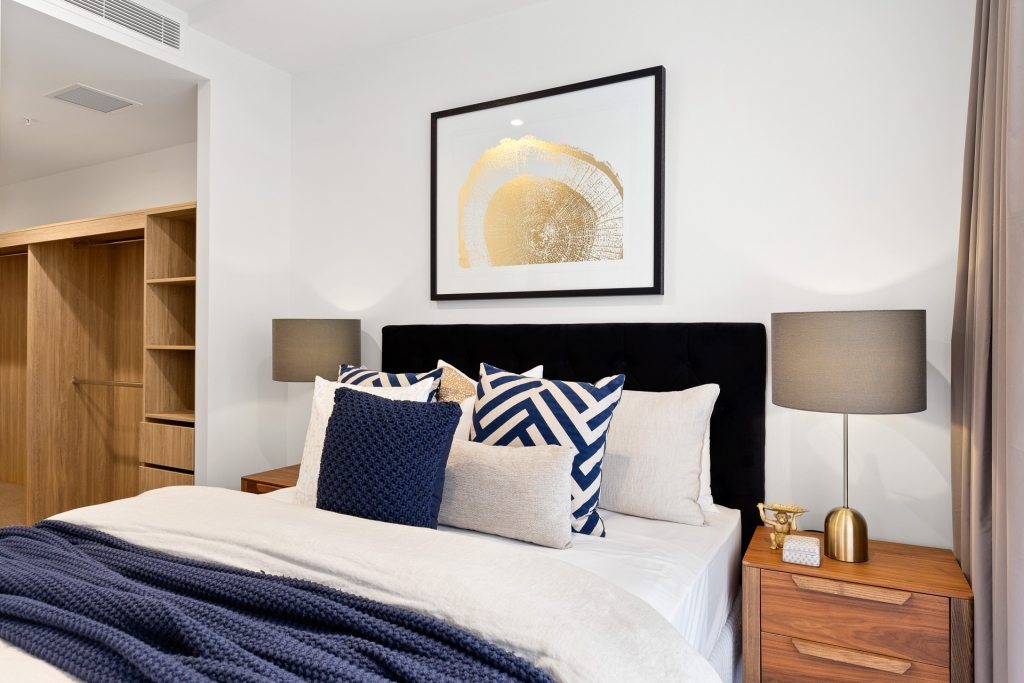 By the numbers: The classic 60-30-10 decor rule is extremely useful when designing a room. It contends that 60 per cent of a room should be a dominant colour, 30 per cent should be the secondary colour and 10 per cent should be accent colour.
You can simplify your colour conundrums for instance by choosing a neutral colour as a base for your your big ticket items, such as a bed.
Linen colours, greys and walnut timber are timeless choices here, making up 60 per cent of the colour. Add quilts, coverings and throw rugs in proportions of 30 and 10.
In the apartment styled by Noble House, the neutral linen base is the main colour, complemented by navy blue as the secondary shade.
Navy is said to impart a calming effect, so it's a perfect choice for your inner-city retreat. It never goes out of style and matches well with just about any hue.
In this case, a fashionable shade of mustard provides a lively counterpoint to the navy, while a smattering of brass-coloured objects provide further visual interest.
While you can theme each room, it is a good idea to ensure that a common thread of base colour runs through all spaces.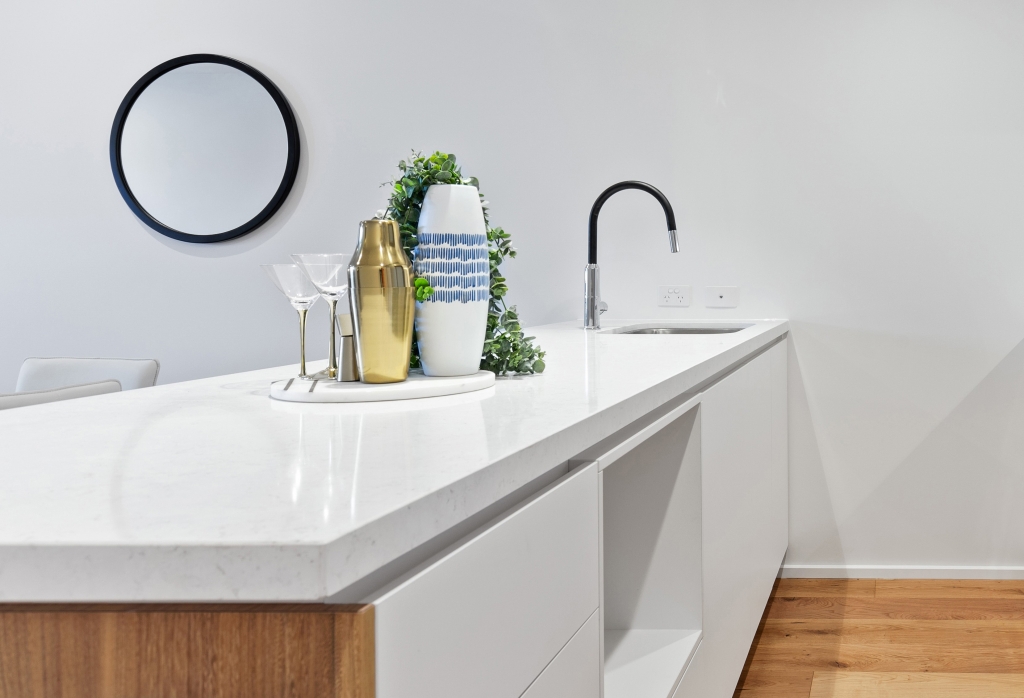 Become a storyteller: Designers love to employ vignettes, or small groupings of objects that tell a story, so that people can invisage themselves living in a space. For instance, a kitchen might feature a recipe book, a bowl of fruit, wine glasses and such.
Typically, the objects are of different sizes and arranged in a basic pyramid shape instead of being thrown together at random.
Arrange objects in odd numbers – threes, fives and so on. Objects put together in odd numbers are more visually appealing than even-numbered groupings.
It's a more conscious way of arranging your keepsakes and it can be a lot of fun experimenting with what works and what doesn't.
Like anything in design, the seemingly effortless approach belies the amount of thought that goes into it.
Scale and proportion: When styling an apartment, you will need to pay particular attention to the proportions of your furniture to the spaces as well as to each other. Again the 60-30-10 rule applies.
To ensure ease of navigation throughout the rooms, remember to measure all pieces before you purchase them. Make sure your main items, such as the dining table, occupy roughly 60 per cent of the allotted space for furniture.
Psychology of colour: It's no secret that colour creates mood.
A bright red couch may well "pop'' in a space large enough to carry it off. However, remember that red can be quite a ''draining'' colour and you may tire of it relatively quickly.
If you want bursts of colour, you could consider artworks, cushions and rugs.
How long will it last? Although professional designers pay close attention to the longevity of individual items of furniture, homeowners are also becoming increasingly aware of product quality.
Ms  Qualischefski says residential clients, particularly those with children and pets, are increasingly enquiring about the Martindale rating of furniture. The rating is a measure of the durability of upholstery, and in essence how well the fabric withstands constant rubbing.
The best design is where form and function intersect. Glass-covered coffee tables, for instance, not only look smart but the glass prevents coffee mug rings on the timber it covers.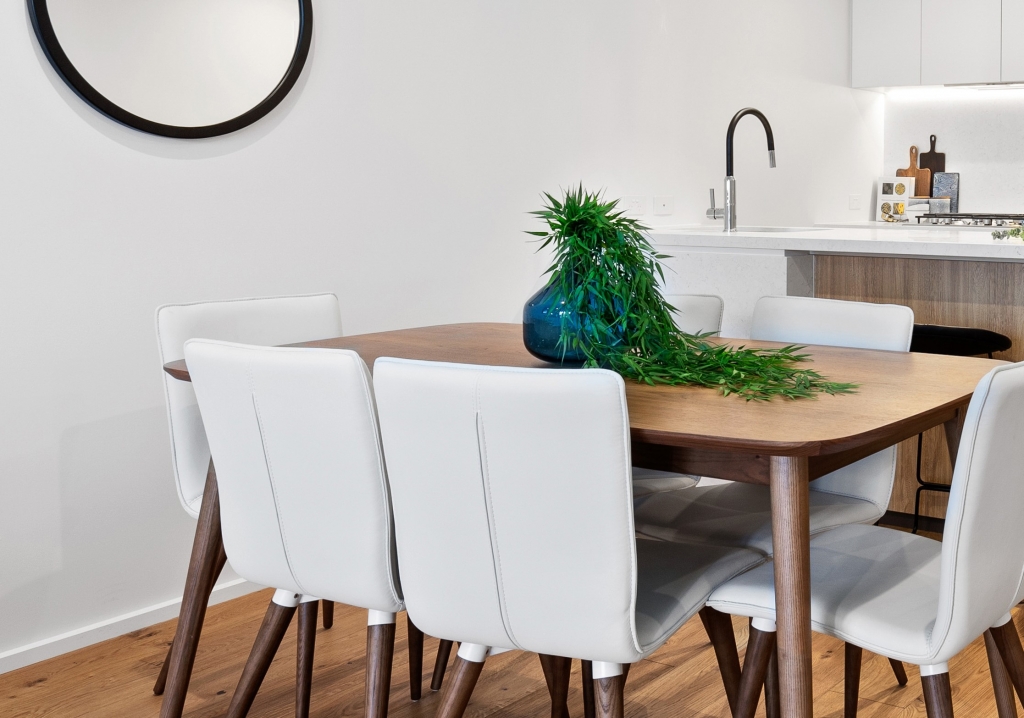 A touch of greenery: With high-end artificial plants virtually indistinguishable from  the real thing, why not add a touch of greenery to your apartment?
It's definitely on trend and nothing says "lush'' like cascading foliage in apartments.  And for those without a green thumb, it's a perfect solution.